Discover more from Scenes with Simon
A weekly newsletter about all the too many things that I find interesting. Among others: systems, art, music, urbanism, economics, AI, crypto, writing, creativity, IP, gaming, & storytelling! Grab a chair, subscribe, and join the conversation!
The Hidden Magic In Our Built Environment
Also: Thoughts on Onchain Summer, The Thaler AI Copyright Judgement, and Cricket in America
One of my favourite things about living in one place for a while, is seeing change happen around you. When you keep looking closer, you find interesting stories of change taking place. From the large, to the small.
When I lived in Williamsburg, NYC, for a year in 2021, I'd often walk to the river and watch the Brooklyn Tower grow taller in the distance.
New York City is full of these: concrete organs rising from grounds fertilised with green bills. It also goes the other way. Places like Detroit, growing abandoned, eventually giving away again to green grass.
Tiktok failed to load.
Enable 3rd party cookies or use another browser
Another example is how Japan's aging population alongside its unique housing developments (most homes/buildings get redeveloped in 2-3 decades) sometimes leaves little trace behind of what once was.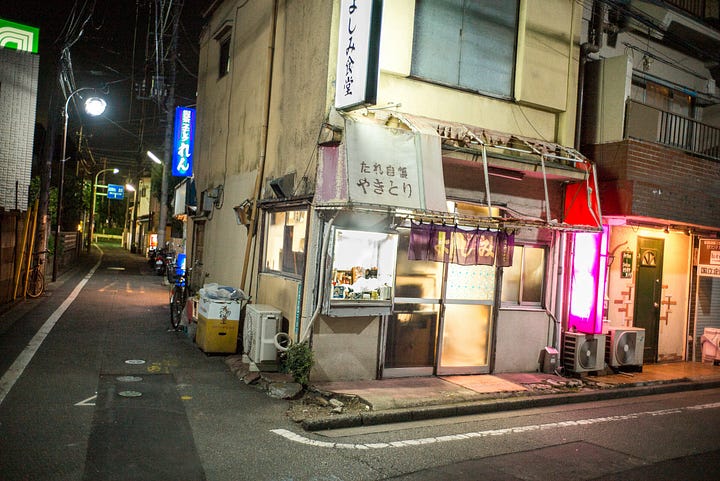 One such trend that growing up, I didn't notice was the rise of roundabouts across the world. In South Africa, it was just a thing. I don't remember a world without them, but I was surprised to find out how recent they are.
It's interesting reading the comments about how in the USA, where roundabouts are only really recently being installed in more towns, how there's vehement push back against. They're generally safer, saves electricity, and actually just nicer to look at.
One of the more interesting parts of our lived landscape is seeing that changes that are a result of other stories elsewhere. Like the stuffed tax bagel, food innovation courtesy of tax laws, so too is this department store on the border between New Hampshire and Massachusetts.
So interesting. 😅
If our lived space hides strange tax codes inside it, then could we consider passwords as memory palaces? I found this proposal from Open Innovation quite interesting. Instead of remembering a poorly derived password or 12 word cryptographic passphrase, you do a "spatial sign-in" for AR/VR applications by remembering a sequence of randomised objects and actions. We know that visual memory is the strongest form of memory.
It does make me wonder whether we can actually hide more stories in our actual built environment. It's like a multi-step geocache mixed with cryptographic keys mixed with 2-factor authentication. Hiding messages in the real world that can only be decrypted by requiring people to randomly do a sequence of actions in a city. Modern day urban incantations. A kind of magic in our built environment.
Then again, sometimes we just need to sit and watch the world change around us, and those hidden stories will reveal themselves. :)
Scenes with Simon is a reader-supported publication. To receive new posts and support my work, consider becoming a free or paid subscriber.
Onchain Summer: Is it *Really* Onchain?
There's a current marketing trend in crypto, emphasising onchain (notably by Zora and Coinbase).
Its intent is to experiment with putting more things on a distributed ledger that wouldn't always make sense in order to explore new forms of creative expression, collecting, and interactions.
It's thus two-fold: actually putting more of a digital experience into the ledger (eg, putting the actual image in the blockchain vs linking to it), but it's also a cultural push to just tokenize and bring more of different things onto a blockchain (eg, making a podcast as an NFT).
Eg, this Jack Butcher episode was minted > 3,000 times.
This trend of putting more things onchain and drastically lowering the cost up to 'free' has it proponents and legitimate critique. In some ways, I agree with Iman, it's more content and likes vs art. NFTs as a medium is growing.
I enjoy this new exploration a lot, but I've struggled with how it diluted the meaning of what onchain means. Directionally, it's the same → just move more of everything onto a distributed ledger. But, now, the term has become so broad as to just refer to really everything you are doing with a blockchain as being onchain, rather than denoting where an experience lies on the spectrum of how attached it is to a blockchain at all.
For example, before this era, the usage of onchain was an attempt to define how likely something (eg, a piece of art) could function without relying on external pieces (eg, a server hosting your monkey JPG). Dom Hoffman even made a 3-star grading for it.
Thus, catalogues of onchain art, like the following: first created by Emre and then newly added and maintained by Takens Theorem, lose their meaning amid this new marketing push.
It is what it is. Names, genres, meaning, all tend to take on a life of its own. Heck, early on, we tried really hard to make NFTs not be confusing and call them digital collectibles, but then, that didn't work. If you say metal or trance, people have different ideas of what it is.
Where do you stand?
No, You *CAN* Copyright AI Work
Lots of misleading headlines this week from another Thaler court-case: the story of a guy trying to claim copyright for an AI-produced work, not for HIMSELF, but for the AI itself.
It makes sense and should generally be unsurprising, but so many comments/articles seem to be hanging on the judgement of AI produced works *not* being copyrightable in any instance. This is wrong.
For example, as of writing this, in this r/futurology subreddit thread, it's almost as if no one read the actual article. I don't blame them, because the real meat of the article is hidden further down.
The push for protection of works created by AI has been spearheaded by Thaler, chief executive of neural network firm Imagination Engines. In 2018, he listed an AI system, the Creativity Machine, as the sole creator of an artwork called A Recent Entrance to Paradise, which was described as "autonomously created by a computer algorithm running on a machine." The Copyright Office denied the application on the grounds that "the nexus between the human mind and creative expression" is a crucial element of protection.
If you want a very crude, short, summarised, reductive take on how to think about it.
If a human uses AI generators in a way that sufficiently passes a threshold of creative input and intent (defined differently in various jurisdictions), then it's likely to be able to be assigned copyright.
Infringement, and other ethical concerns aside, that's how it is currently (in simplified terms) being regarded. So, no, this judgement only means that an AI itself can't be assigned copyright. It's the human using the tool.
Cricket In America
It's no surprise, given easier access to global audiences, that sport is shifting and changing. F1 got a larger, younger audience after its successful Netflix series. Major League Soccer is trying to invigorate new demand for it in the US with Inter Miami signing Lionel Messi. Saudi Arabia is slowly but surely buying out cultural cache and geopolitical power with athletes and leagues funded by them. Cricket, the 2nd biggest sport in the world is practically non-existent in the US.
I really enjoyed this article by
on
's newsletter on how cricket's format has changed alongside IPL pushing its prominence globally.
Vitalik Buterin on Twitter's Community Notes
One of the few redeeming features of Elon's Twitter is the growing rise and prominence of Community Notes (it started pre-Elon, but was boosted post-Elon). Underneath the hood is an interesting and complex algorithm that optimises for helpfulness across polarizations.
Vitalik Buterin's commentary on it is really great and in-depth.
The way that the score is calculated is what makes the algorithm unique. Unlike simpler algorithms, which aim to simply calculate some kind of sum or average over users' ratings and use that as the final result, the Community Notes rating algorithm explicitly attempts to prioritize notes that receive positive ratings from people across a diverse range of perspectives. That is, if people who usually disagree on how they rate notes end up agreeing on a particular note, that note is scored especially highly.
Friendly Fires, The Asphodells - Before Your Eyes
This week's track is a chill, driving beat, indie, track. Always been a fan of Friendly Fires, but somehow missed this when it came out. Really chill and joyful.
btw, I was wondering if it might make more sense to link to each week's song to a generic song linking service so that you can find the link to listen to it on Apple, Spotify, YouTube, etc. I don't think everyone has a YouTube subscription which would suck for this. Let me know!
That's it for this week, friends. Enjoy a lovely sunset!
Simon